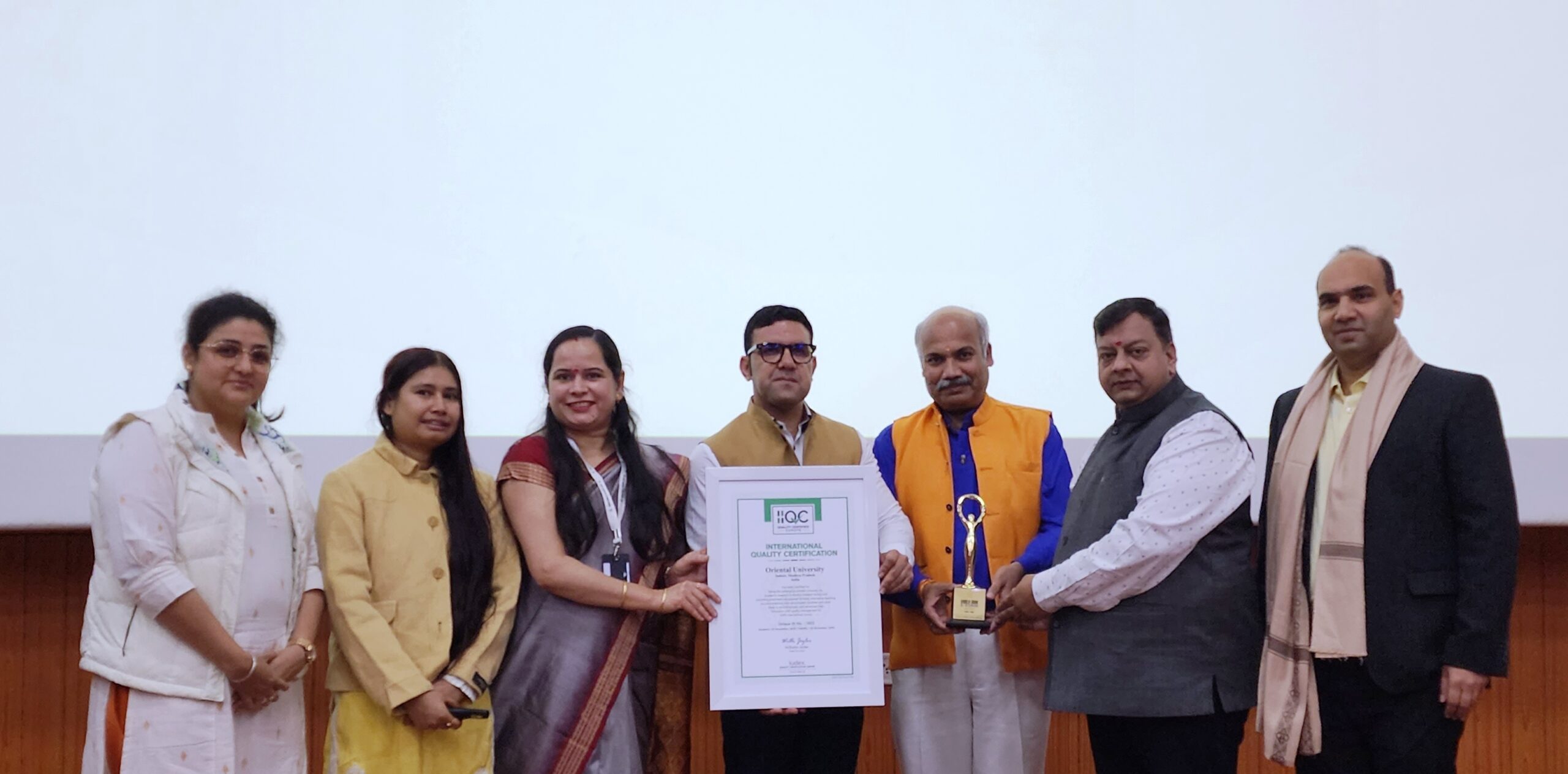 November 23, 2022

iudex_admin

0
The certificate was presented to Mr. Gaurav Thakral, (Pro Chancellor) and Shri Sunil K. Somani (Vice Chancellor) of Oriental University.
Indore: Barrister Santosh Shukla (President and CEO, International Quality Certification) has announced that Prestigious Oriental University Indore (Madhya Pradesh) India has been certified with iudex International Quality Certification (IIQC) of UK for being the prestigious private university for academic research in Madhya Pradesh (India) and providing prominent educational services, innovative teaching accommodations with ultra-modern facilities and other associated fields in providing basic and advanced High Education with quality management to fulfill international norms.
The certificate was presented to Mr. Gaurav Thakral, (Pro Chancellor, Oriental University) and Shri Sunil K. Somani (Vice Chancellor, Oriental University) by Dr. Bharat Sharma, Dr. Suchita Shukla, Dr. Tithi Bhalla, and Shri Ashish S Mishra (officials of iudex International Quality Certification IIQC) in the presence of Dr. Dhruva Ghai (Pro-Vice Chancellor, Oriental University), Dr. Garima Ghai (Dean Academics, Oriental University), Mrs. Sonia Thakral (Director Law, Oriental University) and Dr. Supriya Pathak (Assistant Professor in Management, Oriental University).
Significantly, Oriental University, Indore (OUI) was established by Devi Shakuntala Thakral Charitable Foundation in the year 2011. The Oriental Group is one of the most recognizable names in the field of education since 1995; it has many renowned institutions in Bhopal, Indore and Jabalpur. Oriental University, the first Private University of Indore, has proudly acquired the University status under section 2f of UGC, 1956 Act with effect from May 2011. Oriental University is committed to offer unparalleled quality of education in different streams viz.- Agriculture, Commerce, Computer Applications, Education, Engineering, Law, Library & Information Sciences, Management, Media Studies, Pharmacy and Science. The university has won many awards to its credit, for research, best practices, education excellence, intellectual development, etc.
Mr. Shukla briefed that International Quality Certification (IQC) London, UK which is a globally authorized body for quality control, quality management and performance grading through global parameters. It is a certification division of iudex International UK for quality control in products and services of the business world. It also offers certification opportunities to those involved in education, health, hospitality, industries, agriculture, civil aviation, environment, human rights, social, cultural, science, media, entertainment, art and management & IT and others for providing excellent quality services.
On this occasion, Mr. Gaurav Thakral, Pro Chancellor of Oriental University was congratulated by Mr. Wilhelm Jezler (Head of Europe) and other prominent personalities of business groups congratulated. The function was attended by many national and international personalities.